Pentair GRO Series Membrane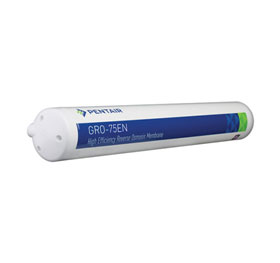 Features:
• NSF Certifed Membrane
• GRO's 100% Dry Membrane helps to maximize shelf life
• Extends the life of filters and membranes because less water is pulled through the system
• Cost saving - reduces water waste by 30% compared to regular membranes
• Higher quality of water compared to TFC membranes

Models Available: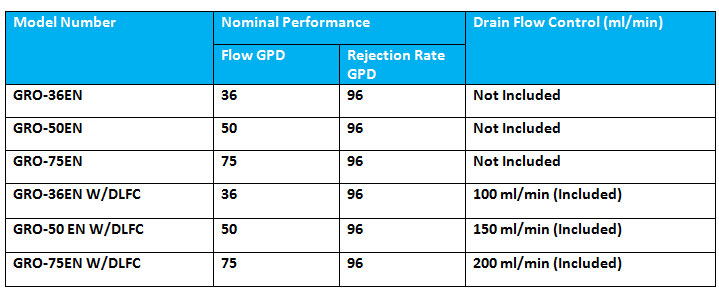 Pentair TLC Membrane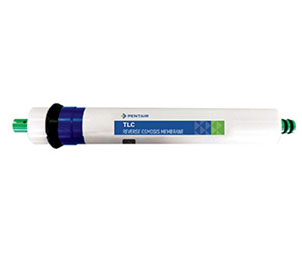 Features:
• NSF Certified Membrane
• TLC thin layer composite membrane
• 100% dry membrane maximizing shelf life
• High rejection stability at high input TDS
• Standard dimensions that fit in most housings

Models Available:


*Nominal performances are based on a 500 ppm softened tap at 65 psig (4.48 bar), 77°F (25°C), 15% recovery after 24 hours. Individual element flux may vary +/- 15%.
Operation Limits:
Maximum Pressure: 100 PSI
Maximum Temperature: 120°F
pH Range: 4-11
Free Chlorine: 0.1ppm

Filmtec BW60-1812-75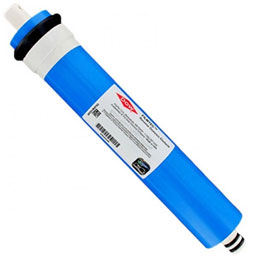 Features:
• NSF/ANSI Standard 58 certified most reliable membrane
• Advanced membrane technology and automated fabrication allows for consistent performance
• New membrane (BW60) chemistry
• Industry leading 99% stabilized salt rejection
• High active membrane area
• Robust in high hardness water applications
• Shipped dry for long shelf life

Specifications:
• Maximum Operating Temperature*:113°F (45°C)
• Maximum Operating Pressure:150 psig (10 bar)
• Maximum Feed Flow Rate: 2.0 GPM (7.6 LPM)
• pH Range, Continuous Operation*: 2 – 11
• Maximum Feed Silt Density Index (SDI): SDI 5
• Free Chlorine Tolerance **:< 0.1 ppm

* Maximum temperature for continuous operation above pH 10 is 95°F (35°C).
** Under certain conditions, the presence of free chlorine and other oxidizing agents will cause premature membrane failure. Since oxidation damage is not covered under warranty, Dow Water & Process Solutions recommends removing residual free chlorine by pre-treatment prior to membrane exposure. Please refer to technical bulletin "Dechlorinating Feed Water" for more information.